The much-awaited film Laal Singh Chaddha has finally been released in cinemas. Starring Aamir Khan, it is the official remake of the 1994 Hollywood classic, Forrest Gump. The Tom Hanks-starrer covered some important events of American history and also mentioned some prominent presidents of the USA. In the Hindi remake, Aamir Khan has done the same, but with Indian Prime Ministers. And when it comes to Narendra Modi, he has paid a beautiful tribute to him.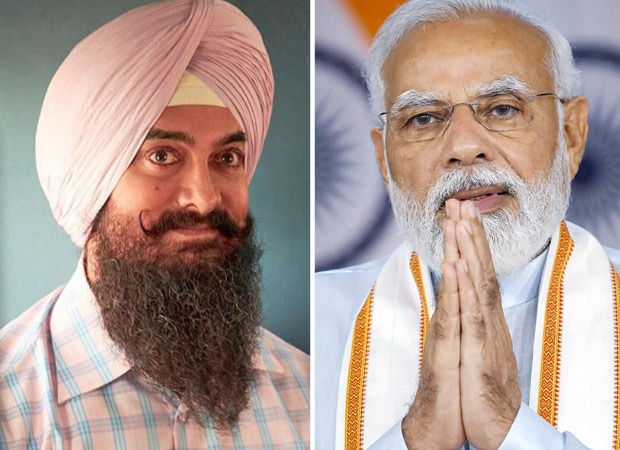 An important part of Laal Singh Chaddha is when the protagonist starts running across the length and breadth of India. In one scene, he's shown running at what seems to be the ghats of Varanasi, Uttar Pradesh. Just behind him, on the wall, Narendra Modi's picture is painted along with the slogan, 'Ab Ki Baar, Modi Sarkar'. This slogan was used in the 2014 Lok Sabha Elections to popularize Modi and it had spread like wildfire. Narendra Modi won the election by a landslide victory the same year and became the Prime Minister.
Narendra Modi belongs to the Bharatiya Janata Party (BJP) and another leader of this outfit which is shown is Lal Krishna Advani. Laal Singh Chaddha sees him when the veteran leader has taken out a Rath Yatra in the early 90s in Delhi. Laal's friend Rupa (Kareena Kapoor Khan) informs Laal in this scene that he and Lal Krishna Advani have the same name. Laal smiles on hearing that. Lal Krishna Advani is shown once again in the second half, sitting in the Rashtrapati Bhavan, where Laal Singh Chaddha gets felicitated for saving the lives of soldiers in the 1999 Kargil War.
Narendra Modi, after coming to power, kick started the 'Swacch Bharat' campaign to inform citizens about cleanliness. This campaign too gets prominence in a scene. When Laal gets down at Chandigarh station in the second half, the camera pans towards an advertisement stuck on the railway platform which mentions the 'Swacch Bharat' campaign.
Finally, another Prime Minister that is mentioned and forms an important part in the film is Indira Gandhi. Laal and his family are shown to be posing outside her house in October 1984 and hearing gunshots. It is implied that she got assassinated when those gunshots were fired. It leads to riots in Delhi and it leads to a significant plot point.
Also Read: Aamir Khan visits Golden temple in Amritsar to seek blessings for Laal Singh Chaddha