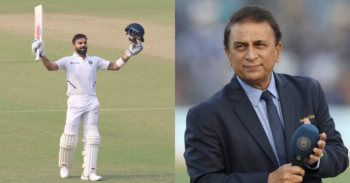 Virat Kohli is playing in his 100th Test in the first Test against Sri Lanka in Mohali. The former Indian skipper has down tremendous endurance and consistency to get to this landmark. So far, Kohli has scored 7962 runs in 168 Test innings. He was felicitated by Rahul Dravid former Indian skipper and the coach of the Indian cricket team.
Former Indian skipper Sunil Gavaskar spoke to the BCCI about Virat Kohli venturing into his historic 100th Test match. He looked back at Kohli's journey in international cricket over time to get to his 100th match in the longest format of the game.
The legendary Sunil Gavaskar takes us through the run of emotions that @imVkohli could feel ahead of his 1⃣0⃣0⃣th Test. #VK100 pic.twitter.com/bzsh44xHXm

— BCCI (@BCCI) March 3, 2022
"Playing 100 Tests for your country is an incredible feeling, all of us when we were kids playing in the compounds of our house, we dream of playing for India. After playing for the country and you come to your 100th Test, it is an incredible feeling. Reaching the 100th Test means you have played for the country very successfully. No career will be smooth, there will be highs and lows," said Gavaskar in a video posted on the official Twitter handle of BCCI.
After initial deliberations, the BCCI allowed 50 percent of the crowd capacity to see Kohli playing his 100th Test match in Mohali. The Indian skipper was felicitated by the current coach and former Indian skipper Rahul Dravid. Gavaskar said that the crowd will give Kohli the confidence when he walks out to bat in his landmark Test. As it turned out,m the crowd inside the stadium gave him a warm welcome as he came out to bat.
Crowd In Mohali Will Lift Virat Kohli Up: Sunil Gavaskar
तो मयंक का आउट होना था और एकाएक सारे कैमरे निकल गए, जैसे हर बस तैयार था, और फिर कोहली… कोहली… कोहली #INDvSL #ViratKohli #ViratKohli100thTest pic.twitter.com/H0j3VnJ2RX

— रोहित जुगलान Rohit Juglan (@rohitjuglan) March 4, 2022
"Whether Kohli is fielding or going out to bat, the crowd will lift him up. That is what crowds do, especially when it is a home crowd. Everyone will be wanting him to get a hundred in his 100th Test. His has been an incredible journey, I remember him making his debut in the West Indies in 2011, even there you could see a fire in him," he added.
Sunil Gavaskar likened Virat to former Pakistan skipper Javed Miandad. He said that Kohli is among the very few modern batsmen who gets under the skin of the bowlers as Miandad did during his playing days.
"To provoke a fast bowler takes something else. Kohli is one of the rare batters who likes to sledge bowlers. He has been different, he likes to get under their skin. He is like Javed Miandad in that sense. His progress has been phenomenal, the consistency with which he has played, the 100th Test and beyond should be more of the same," said Gavaskar.
Also Read: Brad Hogg Labels Virat Kohli As The "Greatest Cricketer" He Has Seen At The International Level
The post IND vs SL: Sunil Gavaskar Likens Virat Kohli To Javed Miandad On His 100th Test For India appeared first on CricketAddictor.